Win money on DrumbeatNews !!!
President Buhari has had fruitful discussions with his Turkish counterpart, Erdoğan, via a phone call
The Nigerian leader urged the Erdoğan-led Turkish government to give more support to Nigeria in the area of economy and the crisis in the northeast
– Meanwhile, in a Twitter response, the Turkish presidency seeks Nigeria's support for Palestine
President Muhammadu Buhari on Friday, May 14, put a phone call across to his Turkish counterpart, Recep Tayyip Erdoğan.
Presidential spokesman, Garba Shehu, said in a settlement  sighted by Drumbeatnews that Buhari called for greater Turkish participation in the economy and the humanitarian efforts in the northeast.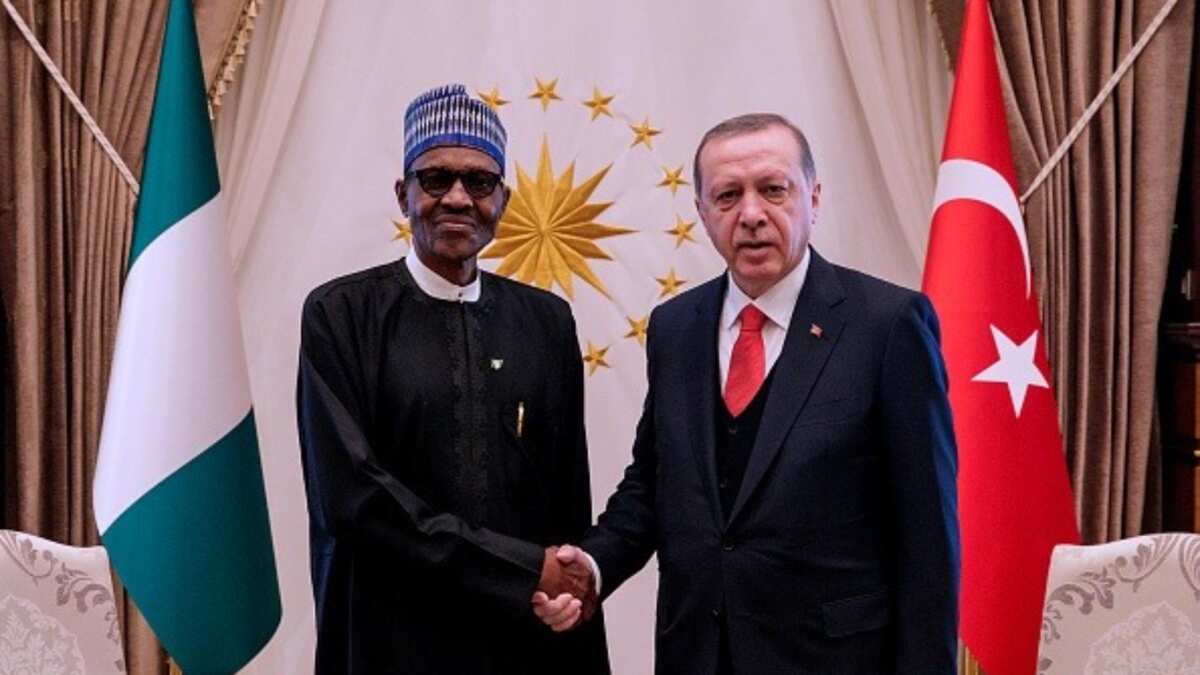 He said the two leaders had fruitful discussions and expressed satisfaction with existing bilateral ties between the two countries.
Drumbeatnews  gathers the two leaders expressed their desire for peace and stability to reign in the world, and for an end to all ongoing conflicts as well as the coronavirus pandemic.
Meanwhile, writing via its Twitter handle, the Turkish presidency quoted Erdoğan as expressing his belief that "Nigeria would show solidarity with the Palestinians" in its current battle with Israel.
The statement reads partly:
"Drawing attention to Turkey's efforts exerted in order for the international community to teach the necessary lesson to unlawful, unjust and unscrupulous Israel due to its attacks against Palestine, President Erdoğan voiced his belief that Nigeria would show solidarity with the Palestinians in this rightful cause."
Meanwhile, Nigeria's Ministry of Foreign Affairs on Thursday, May 13, said the country was observing the conflict between Israeli and Palestine forces with "great concern."

Drumbeatnews  reports that the Nigerian government urged both parties to "see reason and deescalate the hostilities."

"The Nigerian Government further urges the two parties to remain committed to the two-state solution and, in the meantime, guarantee the rights of all citizens to live in peace and dignity," the statement posted on the ministry's official Twitter page reads partly.

In an unfolding development, Israeli artillery has pounded on a high-rise building in Gaza City that houses Al Jazeera, The Associated Press and other media outlets.

Israel's military started by sending warning shots before bringing down the Jala Tower in the Gaza Strip. The 12-storey-building is one of the largest structures in the Gaza strip.

The Israeli airstrikes on Gaza have left at least 140 Palestinians dead, including 39 children and hundreds injured.